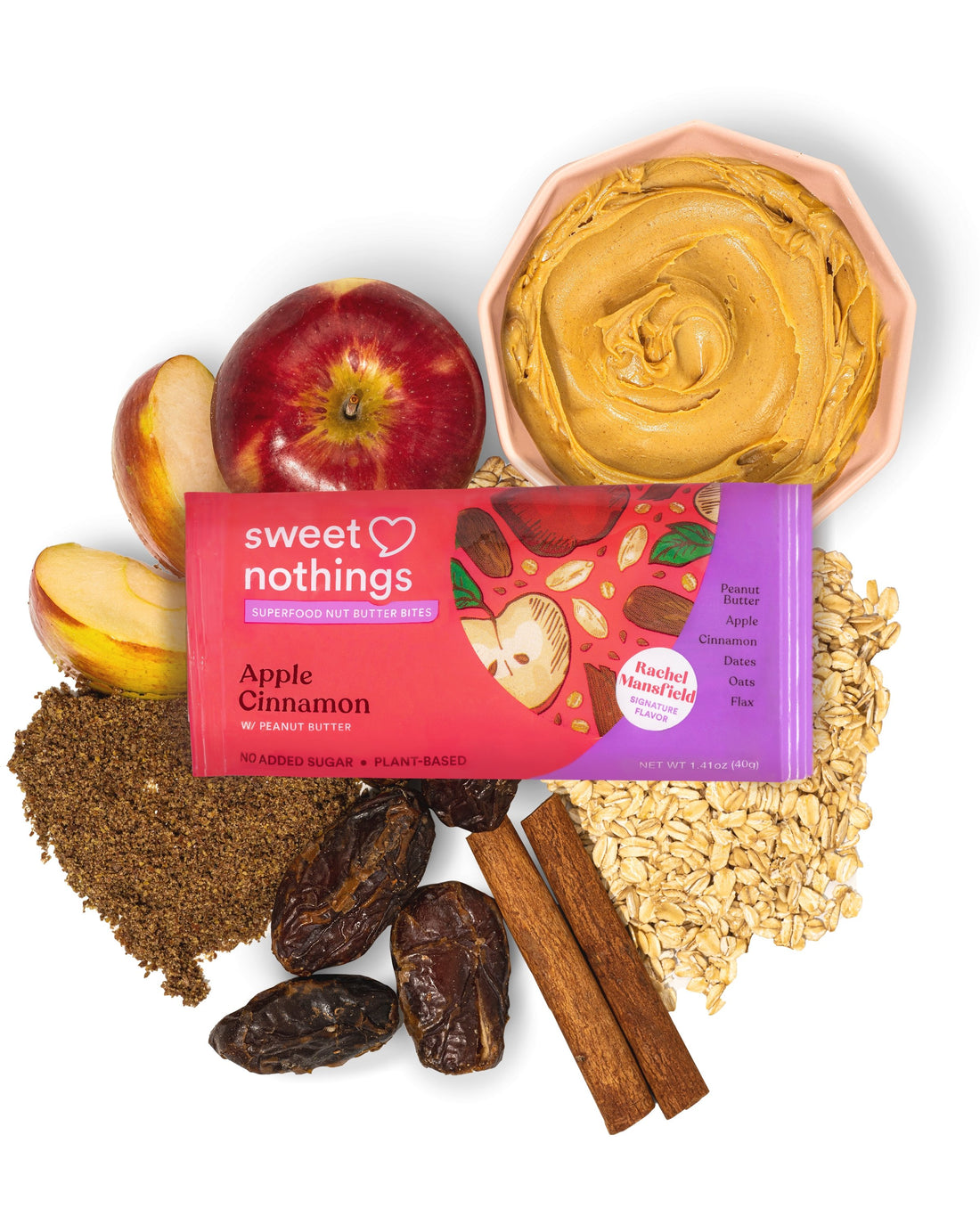 Sweet Nothings Nut Butter Bites Press Release
SPOONABLE SMOOTHIE BRAND, SWEET NOTHINGS, ANNOUNCES THE LAUNCH OF THEIR NEWEST SNACKING INNOVATION 'SUPERFOOD NUT BUTTER BITES' CO-BRANDED WITH RACHEL MANSFIELD
Sweet Nothings Introduces Their First Innovation Outside of the Freezer
New York, NY (September 8th, 2021)
Sweet Nothings, the frozen, ready-to-eat, spoonable smoothie brand, announces today the launch of their newest snacking innovation, Superfood Nut Butter Bites. The product will initially be available in two flavors, Banana Chocolate Chip & Apple Cinnamon, both with peanut butter filling. Sweet Nothings' newest snacking concept contains only 140 calories per pack and is plant-based, gluten-free and contains no added sugar.
Sweet Nothings recently teamed up with best-selling cookbook author, influencer and podcast host, Rachel Mansfield, to create an exclusive Apple Cinnamon with Peanut Butter flavor. Inspired by the immensely popular recipes Rachel has shared through her social media and cookbook, these delectable Superfood Nut Butter Bites blend together some of her favorite flavor profiles into a healthy on-the-go snack. 
"THEY ARE HERE! As a longtime fan of all things Sweet Nothings, to collaborate on their newest innovation is a no brainer for me. I have made my own versions of these nut butter bites for forever and to have them out in the world for everyone to snack on is the coolest. The peanut butter oozing out of these ready-to-eat snacks is a game changer and I cannot wait for everyone to try them. Adults, kids, really anyone can enjoy!" said, Rachel Mansfield.
Sweet Nothings' Superfood Nut Butter Bites have a wholesome outer shell and are loaded with a creamy nut butter center. The bites are filled with nutrient-dense organic ingredients including bananas, apples, peanut butter, oats and flax seeds. On a mission to fight snacking fatigue, Sweet Nothings is putting an emphasis on the importance of clean-label products in a crowded sea of marginally "better-for-you" snacks. These Superfood Nut Butter Bites are made to fuel the busiest of days while satisfying any snack craving. 
"Sweet Nothings is dedicated to our mission of showing that healthy can and should be delicious," said Beth Porter, CPO and co-founder of Sweet Nothings. "Our Superfood Nut Butter bites are the latest innovation we've crafted from ingredients you can instantly recognize as truly good for you, and we're excited to share this new format of delicious convenient snacks with everyone."
Sweet Nothings bridges the gap between finding convenient, yet nutritionally dense and delicious healthy snacks. Sweet Nothings' existing products include Sweet Nothings Spoonable Smoothies which are available in six different flavors including: Chocolate, Strawberry, RISE Coffee, Blueberry, Peanut Butter, and Tropical Greens. 
"We know consumers are tired of reaching for the same snacks time and time again, so, just like with our spoonable smoothies, we are excited to bring a unique, delicious, truly good-for-you option to consumers.  Sweet Nothings wants to change the way we look at food and our hope is that this latest innovation does exactly that." said Jake Kneller, CEO and Co-Founder of Sweet Nothings. 
Superfood Nut Butter Bites are available exclusively on www.eatsweetnothings.com.  
Sweet Nothings

Co-founded by Beth Porter and Jake Kneller, Sweet Nothings created the first on-the-go smoothie cup that will have you breaking up with your blender. Each cup blends together functional ingredients with refreshing fruity and sweet flavors that make the perfect breakfast, post-workout snack or guilt-free dessert! Sweet Nothings' proprietary blend of natural superfoods, including fruits, flax and chia seeds, provides a creamy, soft texture without any added sugar, or chemical stabilizers. Sweet Nothings features ingredients you can pronounce and that you already know and love such as bananas, nuts, dates and more. Sweet Nothings donates a portion of every cup sold to non-profits fighting hunger and is available on Sweet Nothings' website. You can find Sweet Nothings in the frozen fruit section of thousands of grocery stores throughout the country and through online stores including Amazon Fresh, Thrive Market, FreshDirect and Good Eggs. 
# # #
Media Contact
Autumn Communications
sweetnothings@autumncommunications.com