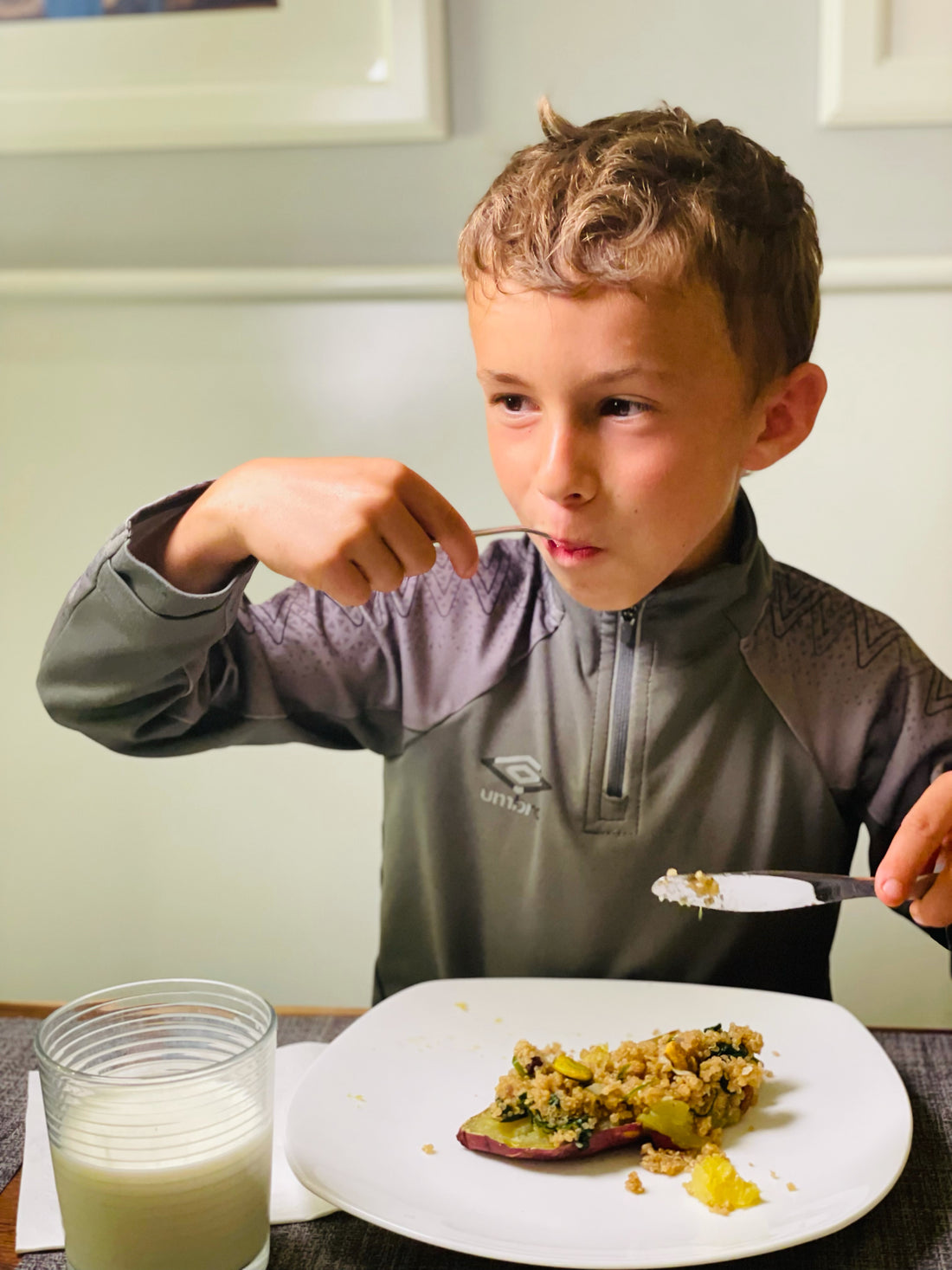 Healthy is Delish by Beth: Quinoa & Spinach Stuffed Sweet Potatoes
Quinoa & Spinach Stuffed Sweet Potatoes 
My husband grew up eating quinoa and potatoes for dinner. However, while he appreciates now in hindsight the nutritional value of that combo, as a kid he didn't exactly love the taste. I decided to recreate his childhood dinner with plenty of extra flavor and color! These quinoa and spinach stuffed sweet potatoes are incredibly filling by themselves as a complete meal, but feel free to add a simple salad to round out your family lunch or dinner.
Prep time: 15 minutes
Cook time: 1 hour
Yield: 4-6 servings
4 thoroughly washed sweet potatoes (I love Japanese sweet potatoes with white flesh)

3/4 cup quinoa, rinsed

1 1/2 cups of water

2 teaspoons of Better than Bouillon

2 tablespoons olive oil

½ red onion, diced

1 clove garlic, minced 

8 cups spinach

1/4 cup raisins

1/4 cup shelled, roasted, salted pistachio nuts

1/4 cup shaved or shredded parmesan cheese 
PREPARATION
Heat oven to 400 degrees.
On a sheet plan, place the sweet potatoes with multiple holes poked in each to allow for steam to escape. Bake potatoes for 45 minutes to 1 hour. Potatoes are finished when they are tender.
In the meantime, place quinoa, water and bouillon (or broth) in saucepan and bring to a boil. Reduce heat and cover for approximately 15 minutes, until water is absorbed, and quinoa is fluffy. 
While quinoa and potatoes are cooking, heat olive oil in a skillet on medium heat. Sautee red onion for 5 minutes until tender. Add the garlic to sautéed onion for 30 seconds until fragrant. Add spinach in 2 batches and toss everything together until spinach is wilted. Turn off the heat and mix in raisins. The warm spinach will help plump the fruit.
Stir cooked quinoa into spinach mixture and season with salt and pepper as desired.
When the sweet potatoes are finished, take them out of the oven and let them cook for a few minutes. Split open baked potatoes and press on both ends to make room for toppings. Fill each potato with quinoa and spinach. 
Just prior to serving, sprinkle pistachio nuts and parmesan cheese over the top of the potatoes.