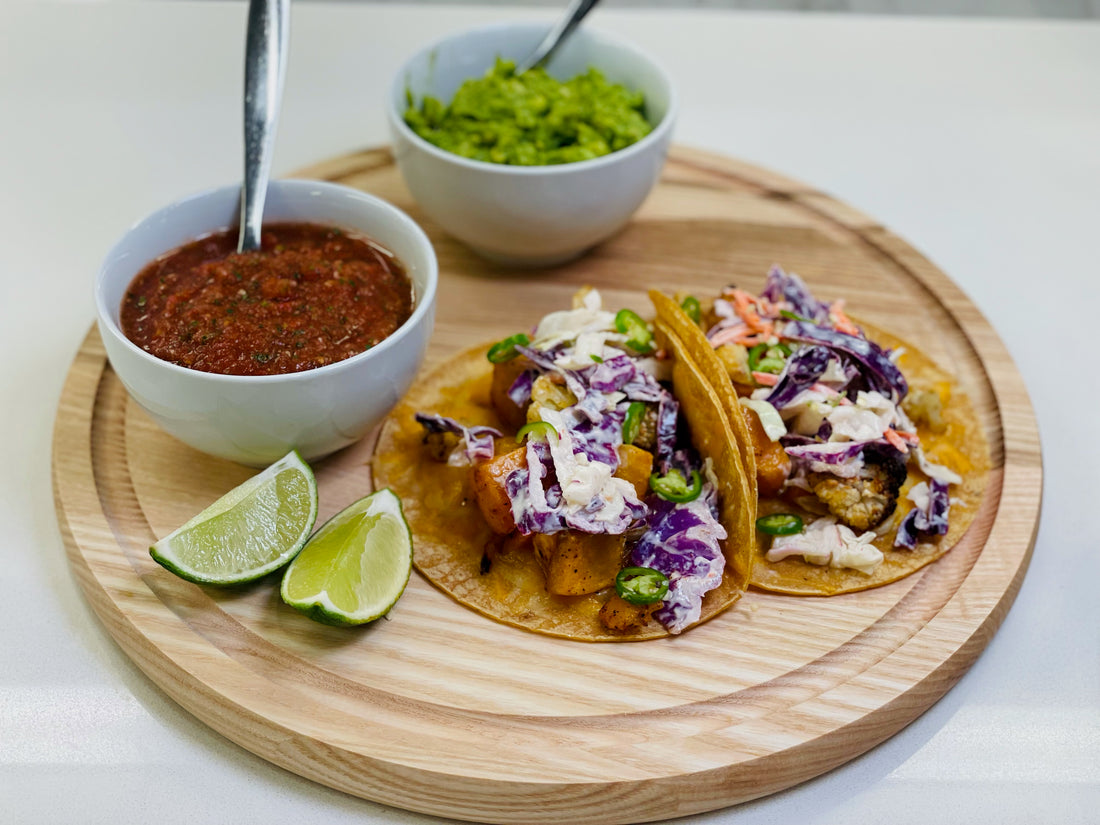 Healthy is Delish by Beth: Roasted Butternut Squash & Cauliflower Tacos
Roasted Butternut Squash & Cauliflower Tacos
If you have been following my blog, you probably know that my family loves tacos!  These butternut squash tacos are no exception. As fall rolls around, I love adding these beautiful orange vegetables to my recipes. Seasoned roasted squash and cauliflower topped with crispy slaw in a savory sauce, and guacamole all loaded in a warm cheesy tortilla.  This healthy truly is delish!
Prep time: 30 minutes
Cook time: 30 minutes
Yield: 4-6 servings
Roasted Veggies
3 cups butternut squash cut into 1/2 inch cubes

1 head of cauliflower ends trimmed, cut into bite-sized pieces

1 small onion, peeled and cut into 1-inch slices

4 tablespoons olive oil

2 teaspoons smoked paprika

2 teaspoons chili powder 

1 tablespoon salt
Cabbage Slaw
4 cups shredded cabbage or 1 bag coleslaw mix

1/2 cup sour cream

1/2 of a lime

1 clove garlic minced

1 teaspoon sriracha

1/2 teaspoon salt
Three Ingredient Guacamole
2 avocados

1 clove garlic minced

1/4 teaspoon salt
PREPARATION
Heat oven to 425 degrees. On a sheet pan lined with parchment paper, combine the butternut squash, cauliflower and sliced onion with the olive oil and toss. Add smoked paprika, chili powder and salt, and toss again until evenly coated. 
Roast for 25 minutes, stirring halfway through. Your veggies should be charred a bit at the tips. Feel free to broil for 2-3 minutes at the end of cooking to get veggies extra crispy.
While the veggies are roasting, prepare your cabbage slaw. Combine all ingredients except for cabbage. Taste the sour cream sauce once mixed and feel free to add more lime juice, sriracha or salt as desired. Toss the cabbage and sauce together and let sit for the duration of your meal prep.
To assemble the guacamole, simply mash the avocados, minced garlic and salt together. Taste and add additional salt if you desire.
Place tortillas on a baking sheet and sprinkle with shredded cheese. Pop the tray into the oven along with roasted veggies for the final 5 minutes until the cheese is melted. 
Top the warm, cheesy tortillas with roasted veggies. Add crunchy slaw, guacamole, homemade salsa, and sliced jalapeños (if you like it hot like I do!).