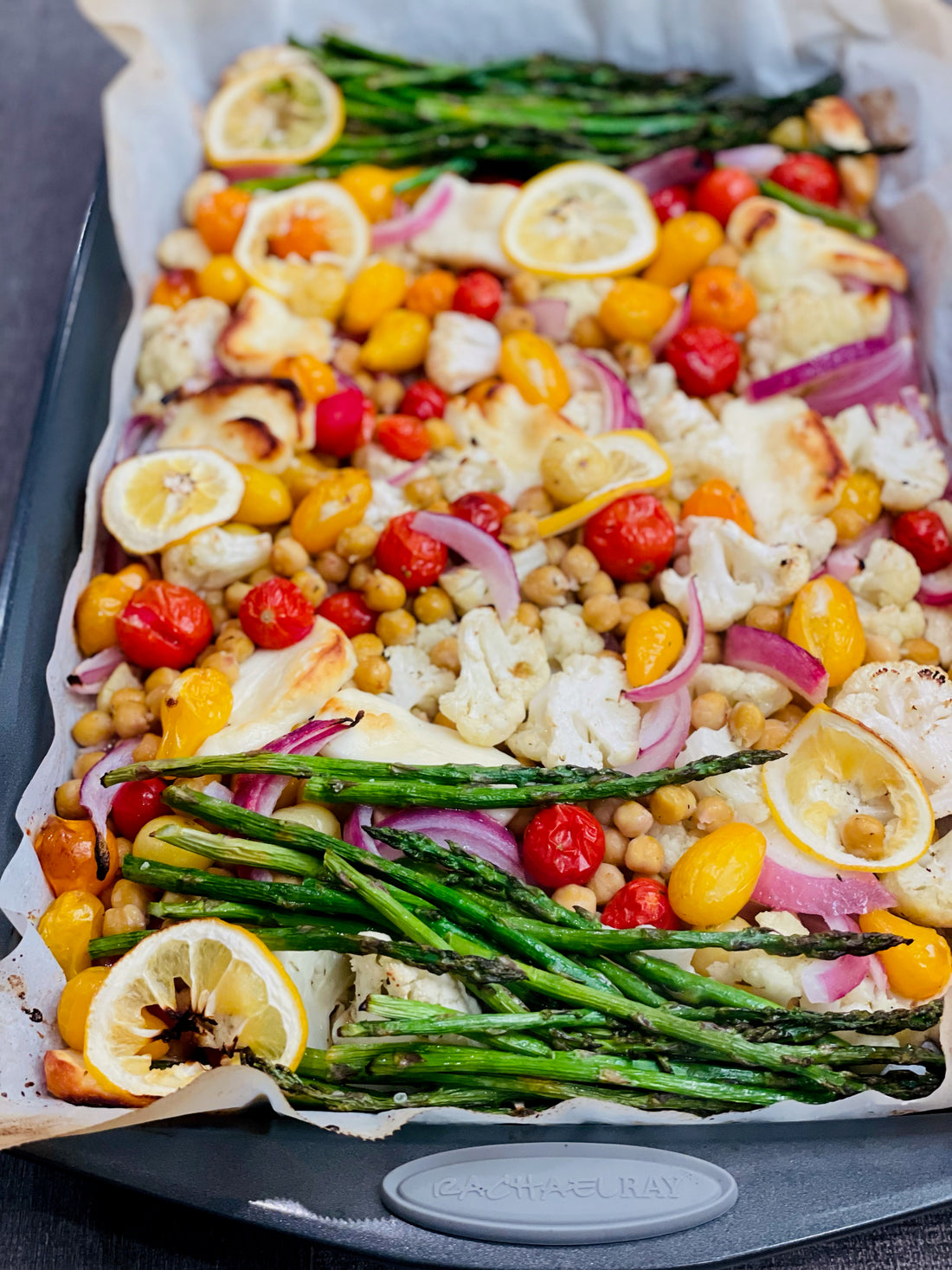 Healthy is Delish by Beth: Sheet Pan Halloumi
Sheet Pan Halloumi
Between work and my kids after school activities, I often find myself arriving home at 5:45pm with the goal of getting dinner on the table by 6:30pm.  Sheet Pan meals are truly the easiest thing going. And this particular combination is delicious!  I've seen the social posts about baked feta, but after creating this recipe, we are all in on halloumi in our house. It's salty, chewy and crispy edges are so satisfying.  When paired with sweet tomatoes, and sour lemon slices, you truly get a flavor explosion in your mouth!
Prep time: 15 minutes
Cook time: 25 minutes
Yield 4 servings 
1 head of cauliflower or 2, 10 ounce bags, ends trimmed, and cut into bite-sized pieces
1 pint cherry or grape tomatoes (about 2 cups)
1 bunch asparagus, ends trimmed
1, 13 ounce can or box of chickpeas
1 small red onion, peeled and cut into 1-inch slices
1 meyer lemon, 1/2 cut into thin slices and the remaining 1/2 left for squeezing over the top after roasting
1 (8- to 10-ounce) block halloumi, cut into 1-inch slices
4 tablespoons olive oil
1 teaspoon ground cumin
1 teaspoon oregano
 Salt and black pepper
3-4 pieces of pita bread
PREPARATION
Heat the oven to 425 degrees (convection if you have it). On a sheet pan lined with parchment paper, combine the cauliflower, asparagus, tomatoes, onion and lemon slices with the olive oil and toss. Add cumin and oregano, season with salt and pepper, and toss again until evenly coated. Place the halloumi slices in between the vegetables.

 

Roast 20-25 minutes, stirring halfway through (shorter w/ convection, a bit longer without). 

 

Your veggies should be charred a bit at the tips. 

 

Feel free to broil for 2-3 minutes at the end of cooking to get veggies extra crispy. Squeeze the remaining lemon juice over the top just prior to serving.
Slice each pita bread into 8 triangles. Drizzle with olive oil and sprinkle with salt (and zaatar if you like – we love it!). 

 

Bake at 375 for approximately 10 minutes.
Enjoy!