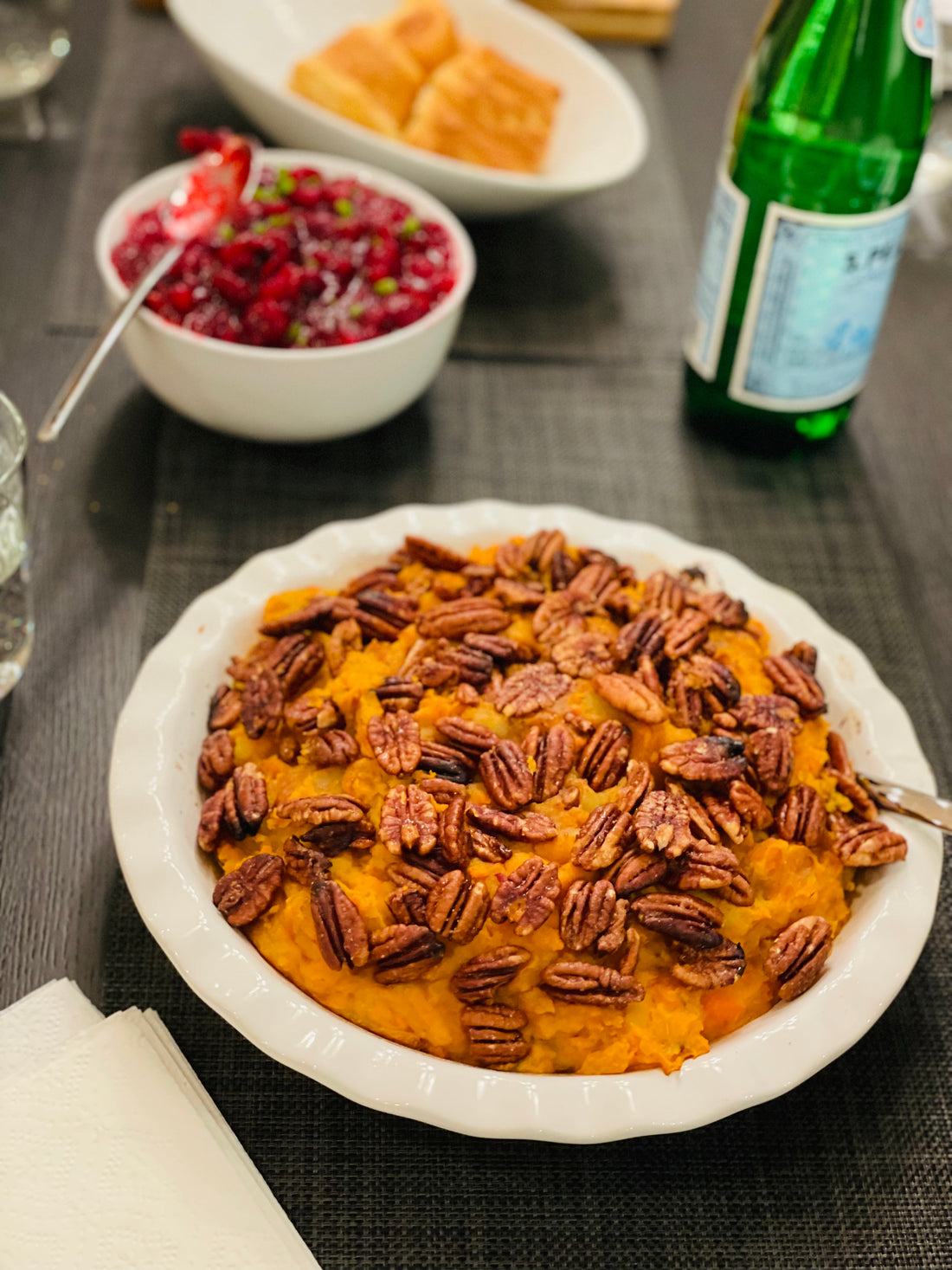 Healthy is Delish: Mashed Sweet Potatoes with Candied Pecans
Mashed Sweet Potatoes with Candied Pecans
I discovered the most delicious mashed sweet potatoes recipe on Epicurious several years ago and have adapted it to make it even easier.  We eat lots of sweet potatoes throughout the year and they are so satisfying stuffed w/ healthy toppings like quinoa or simply on their own.  But I like to splurge a bit around the holidays and this creamy, crunchy, savory and sweet casserole is the perfect combination and a huge hit.
Prep time: 10 minutes
Cook time: 1 hour
Yield: 10 servings 
5 pounds of prebaked and cooled sweet potatoes (I use ½ garnet and ½ white flesh Japanese sweet potatoes)
4 eggs
3 tablespoons maple syrup
2 tablespoons vanilla extract
1 tablespoon fresh lemon juice
2 teaspoons salt
5 ounces of candied pecans (I use Trader Joe's)
PREPARATION
Preheat the oven to 350 degrees.
Mix together eggs, maple syrup, vanilla extract, lemon juice and salt in a large bowl.
Scoop flesh out of cooled sweet potatoes and add to the bowl with egg mixture. Transfer sweet potato mixture to a prepared (lightly sprayed with olive oil) glass pie dish.
Bake for the first 30 of 60 minutes. Then top with candied pecans and bake for an additional 30 minutes until golden and bubbling.