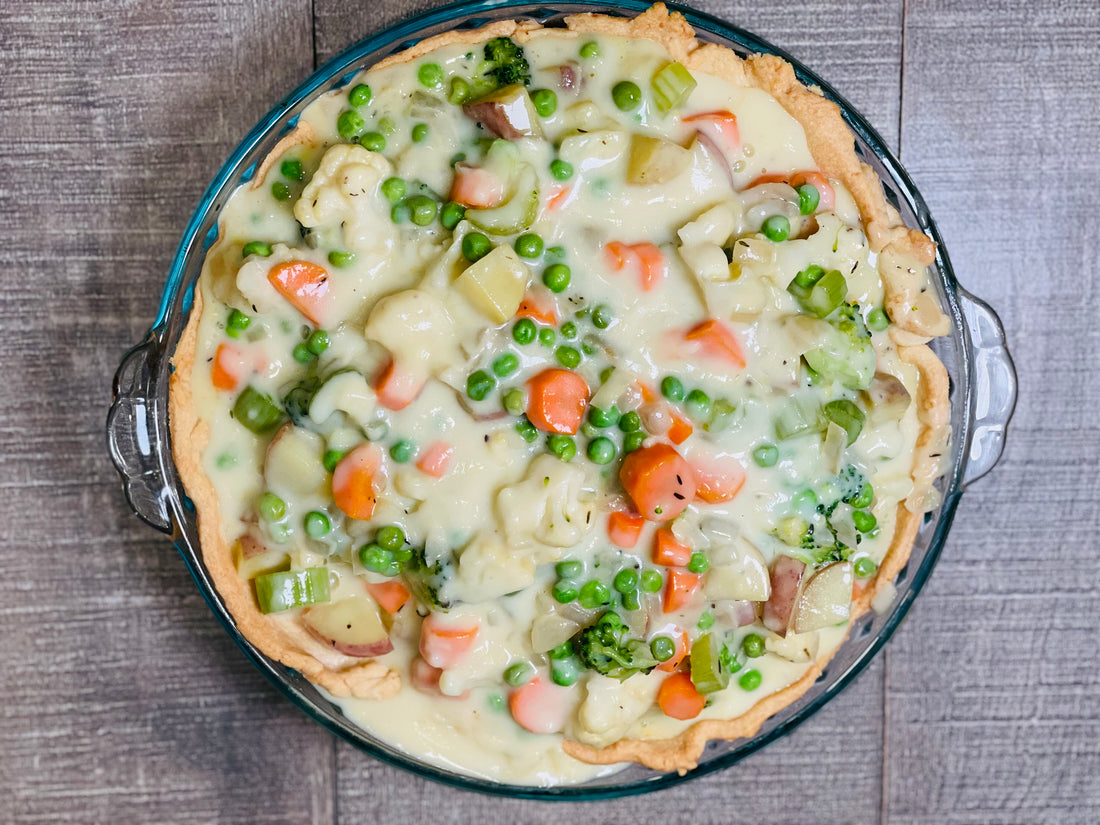 Healthy is Delish: Hearty Veggie Pot Pie
Hearty Veggie Pot Pie
Making pies can be a bit time consuming and indulgent, so the holidays are a perfect time of year to do so.  It just doesn't get much better than the smells and comfort of a pot pie. This hearty pie is chock full of delicious veggies and will satisfy even the meat eaters in the house.  
Prep time: 30 minutes
Cook time: 1 hour
Yield: 6 servings 
1 small yellow onion, peeled and diced
2 large carrots, peeled and diced
3 stalks of celery, diced
4 baby potatoes or 2 large russet potatoes (I prefer a mixed medley), peeled and diced 
2 cups broccoli florets and 2 cups cauliflower florets cut into bite-sized pieces
2 cups frozen peas
2 cloves garlic, minced
6 tablespoons olive oil
2 tablespoons butter
2 cups broth of your choice
1 cup whole milk
½ cup all-purpose flour
2 store bought pie crusts, 1 bottom and 1 top
Salt and black pepper
PREPARATION
Follow instructions on pie crust packaging for thawing. Heat the oven to 375 degrees (convection if you have it). Prebake bottom crust in pie pan for 20 minutes and allow to cool while assembling the veggie mixture. Increase oven temp to 425.
Heat 4 tablespoons of oil in a large skillet or saucepan over medium heat. Sautee onions for 3 to 4 minutes, until translucent and fragrant. Stir in carrots, potatoes, and celery for an additional 8-10 minutes, until fork tender. Add cauliflower, broccoli, and peas for 3 more minutes. Stir in garlic for a final 30 seconds. Turn off heat.

In a small saucepan, melt butter and pour in 2 tablespoons of oil. Stir in flour until dissolved and becomes a smooth, paste-like texture.  Add broth and milk.  Cook until sauce thickens, about 3 minutes.

Pour sauce over veggie mixture. Add salt and pepper to taste.

Assemble top crust over pie filling. Place in preheated oven at 425 degrees. Cover edges of top crust w/ foil if they begin to burn. Bake until golden brown and bubbling about 30-35 minutes.